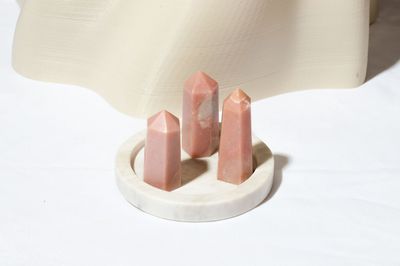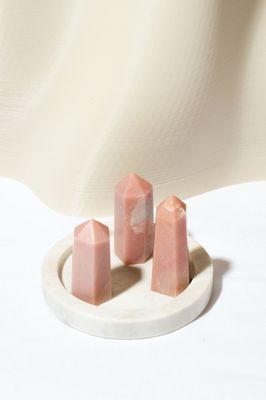 Pink Opal Towers
YOGA & OILS
$22.00
or 4 interest free payments of $5.50 with
learn more
Heart Healing - Compassion - Calming - Releases Fear & Worry - Emotional Balance - Healing

A Pink Opal Stone fills your aura with tranquillity & peaceful energy. Amazing for emotional balance & healing. Sleeping with them underneath your pillow, or meditating with them fills your heart with compassion & encourages a gentle resolution of any painful emotional occurrences or memories.
Pink opal healing properties have a gentle frequency that help to calm & soothe your emotional body, clearing & calming the heart to bring a sense of love, peace & hope. If you are healing from a break up, or the loss of a loved one, these healing stones will help to heal your heart & painful emotions, encouraging you to move forward & open your heart to love again.

In addition to healing matters of the heart, the pink opal meaning encourages the release of fear, worry or anxiety. It helps to dissipate stress, allowing you to be more centred & calm.

FEATURES:
- Sourced from Peru
- Cleansed ready for your energy
- Each Crystal varies in size, these beauties range from 8-10cms tall
- GIFT READY: Your crystal comes gift wrapped with love for you, with an affirmation card.
** Information provided not meant to diagnose.
SKU: 10653