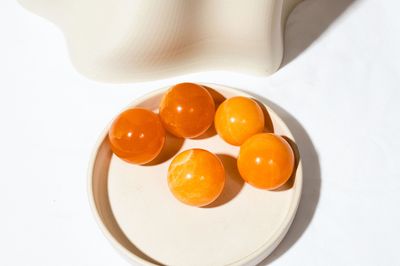 Orange Calcite Sphere
YOGA & OILS
$33.00
or 4 interest free payments of $8.25 with
learn more
An Energy Amplifier
Orange Calcite is a joyful stone that easily lifts & cleanses vibrations around it.  It enhances self-awareness, bringing to light those things that prevent you from accomplishing dream.  By introducing warm sunny joy this stone helps you understand the steps you need to take to complete tasks on your list.  It increases self-esteem, allows one to gain determination and it helps relieve suffering or turmoil.  It removes fear & depression.
Calcite in general is energetically enhancing.  It raises vibration & clears negativity from the environment.  As an energy amplifier, it is excellent as an aid for increasing spiritual abilities of all types: psychic development, spiritual growth & awareness a& it instills the ability to discern helpful energies from harmful ones.
Calcite is a stone that may help relieve depression & boosts physical energy.  It prompts physical movement, making lethargy a thing of the past. Orange Calcite encourages us to understand our full potential.
From The Crystal Bible, "Orange Calcite balances the emotions, removes fear & overcomes depression.  It dissolves problems & maximises potential."
FEATURES:
- Sourced from Brazil
- Cleansed ready for your energy 
- Each Crystal varies in size, these beauties are approx 5cms
- GIFT READY: Your crystal comes gift wrapped with love for you, with an affirmation card.
**Information provided not meant to diagnose. 
SKU: 10635