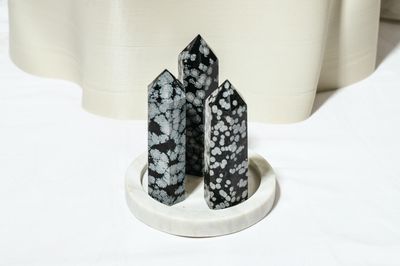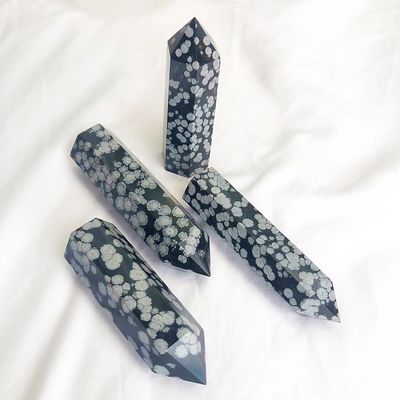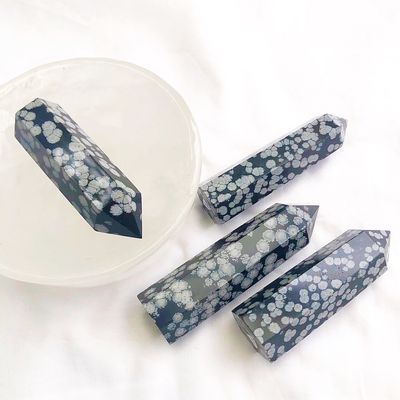 Snowflake Obsidian Tower
YOGA & OILS
$32.00
or 4 interest free payments of $8.00 with
learn more
Snowflake Obsidian is said to purify & ground body, soul & aura. It can centres & focuses attention, which can be really useful in chaotic or stressful environments. The black of the obsidian & the white of the snowflakes represent the balancing of dark & light, yin & yang & this stone is known to be a bringer of balance between two opposing sides.
There are many dualities that the stone symbolises. It helps you see the bright side & reminds you that even though you will encounter tough times, there will always be light inside yourself.
In meditation, it facilitates looking inward & finding the inner strength to overcome whatever obstacle is in your path. It is protective of both your space & your energy, so it is useful for keeping your space calm & balanced, and also for shielding you from any negative energy.
FEATURES:
- Your Tower is 8cm-10cms tall and will come cleansed and happy 
- GIFT READY: Your tower comes gift wrapped with love, along with a description of the healing properties for your gemstones and with an affirmation card.
- ONE OF A KIND: Because we source natural gemstones each crystal varies slightly. Your piece is truly unique to you. 


SKU: 10777