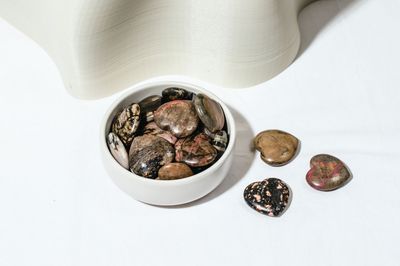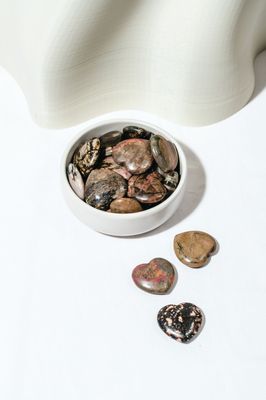 Rhodonite Heart
YOGA & OILS
$12.00
or 4 interest free payments of $3.00 with
learn more
ENERGY:
Forgiveness - Love - Emotional Healing - Joy - Heart healing - Calming
Living a life of pure joy might seem like a fairytale, but when you bring the Rhodonite crystal properties into your life, it makes the heart grow bigger and wiser, opening up your spirit to infinite possibilities. If your relationship has reached a stalemate, use the power of the Rhodonite and transform conflicts into love and understanding.

Known for its powerful vibrations of pure love, the Rhodonite crystal healing properties are an excellent remedy for calming frayed nerves, and replacing anxiety, fear, and anger with warm emotions like self-worth, wellbeing, and stability, all the characteristics that make you feel like the real you. 

Sit quietly with the stone and let it infuse your spirit with the highest vibrations of love. Let the Rhodonite remind you to give happiness and love a chance.
FEATURES:
- Cleansed ready for your energy, your beautiful heart is approx 2.8 - 3cms in size.
- GIFT READY: Your crystal comes gift wrapped with love for you, with an affirmation card.
**Information provided not meant to diagnose, gained from Energy muse.
SKU: 10696