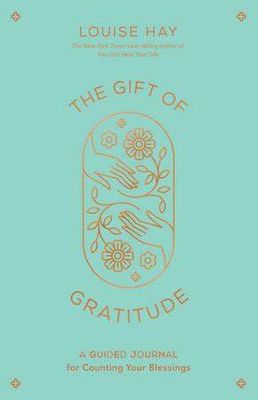 The Gift of Gratitude - Louise Hay
YOGA & OILS
$48.00
or 4 interest free payments of $12.00 with
learn more
Learn how to enjoy Life's gifts with this journal packed with Louise Hay's affirmations and motivational exercises on self-love, joy and living in gratitude.

'Life is very simple: What we give out, we get back. The Universe always gives us what we believe we deserve. No matter what the problem seems to be, there is really only one solution, and that is loving the self. Love is the miracle cure. Loving ourselves works miracles in our lives. Gratitude is key to all of this.' Louise Hay

Louise Hay lived gratitude every minute of every day, which is the motivation for this journal. She had a true 'attitude of gratitude' as she liked to call it, but she would be the first to say that she was not unique - we all have the capacity to enjoy Life's gifts.

This journal collects many of Louise's writings on grateful living along with time-honoured exercises, such as how to craft your own affirmations, do mirror work, effectively visualize, forgive and release, heal dis-ease, recognize the inner child and express appreciation every day. As you learn to count your many blessings, may you see that your life itself is a blessing.
SKU: 10052