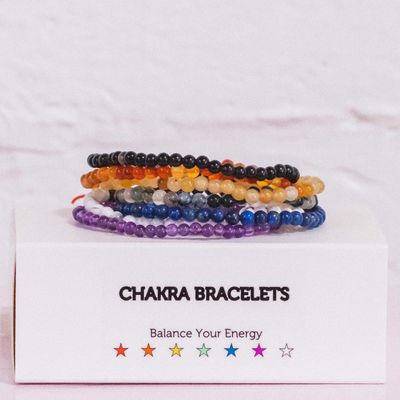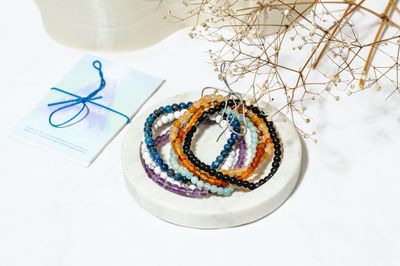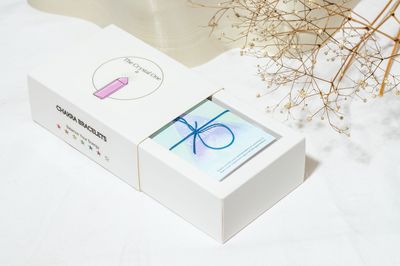 Chakra Bracelets - set of 7
YOGA & OILS
$54.00
or 4 interest free payments of $13.50 with
learn more
Chakras are the energy centres in your body through which energy flows. These energy centres are directly linked to mental, physical and spiritual attributes. By understanding what each chakra represents and what you can do to keep this energy flowing freely, you can feel amazing, balanced, calm and free!
Our 7 Chakra bracelets bring together 4mm gemstone beads in seven individual beautiful bracelets. We have chosen high vibe crystals for your chakra bracelet pack. Wear one if you'd love the energy of the bead, or to balance the chakra or wear them all together.
Obsidian - Root Chakra - Grounding, Protection
Carnelian - Sacral Chakra - Emotional Balance, Creativity, Flow
Yellow Jade - Solar Plexus Chakra - Confidence, Energy
Moss agate - Heart Chakra - Joy, Love, Abundance
Lapis Lazuli and Chrysocolla - Throat Chakra - Truth, stepping into your power, communication
Amethyst - Third Eye Chakra - Clarity, Intuition, Serenity
Howlite - Crown Chakra - Connection, Harmony, Peace


Each pack comes in a beautiful bag along with cards on each of the chakra's and beads.
ENERGY:
Power of Serenity - Calming - Clarity - Inner Strength - Cleansing - Emotional Balance - Healing - Intuition - Spiritual Awareness - Motivation - Releasing Anxiety - Protection - Joy - Love - Confidence - Self Worth - Grounding


FEATURES:
- HANDMADE IN NZ: Designed & meticulously handcrafted with love & intention in Te Awamutu, New Zealand
- QUALITY GEMSTONES: We source genuine semiprecious stones from Australia & New Zealand suppliers. 
- READY TO USE: Your Bracelets have been cleansed and charged prior to wrapping with love for you.
- GIFT READY: Your Bracelets come gift wrapped, along with a description of the healing properties for your gemstones and an affirmation card.
- ONE OF A KIND: Because we source natural gemstones, each bracelet is truly unique to you. If you would like it custom made, please add your wrist measurement in cm's in the additional comments at checkout.


SKU: 1014