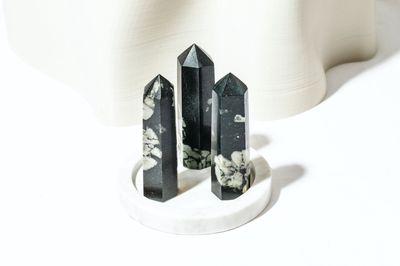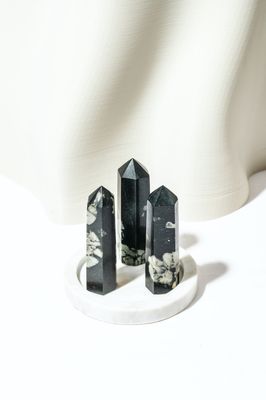 Chrysanthemum Towers
YOGA & OILS
$28.00
or 4 interest free payments of $7.00 with
learn more
The Flower Stone 
A beautiful and unexpected gift from Mother Earth, a symbol of optimism and joy.  The Chrysanthemum Stone is known for integrating change & harmony, & lending the knowledge of how the two work together to help you "bloom" & progress on the path to the perfect Self. It ameliorates negative mindsets & strengthens character, while enhancing compatibility with others and the renewal of relationships.


Chrysanthemum Stone is a stone of harmony, emitting a calm, confident energy that encourages one to slow down, centre, & enjoy the moment, lending the time needed for you to "bloom." It nurtures change & equilibrium, & demonstrates how the two work together to increase strength of character & provide for a positive, solid lifestyle.
Chrysanthemum Stone resonates with both black & white energies, & may be used to balance the yin & yang forces within the system. It is ideal for opening & clearing the meridians for a smooth flow of energy as it stimulates the Base & the Crown Chakras

Harmony - Joy - Optimism - Calm - Yin & Yang - Strength - Present Moment 
FEATURES:
- Sourced from USA
- Cleansed ready for your energy 
- Each Crystal varies in size, these beauties range from 7.5-8cms tall & 2-2.5cms wide
- GIFT READY: Your crystal comes gift wrapped with love for you, with an affirmation card.

**Information provided not meant to diagnose.
SKU: 10280