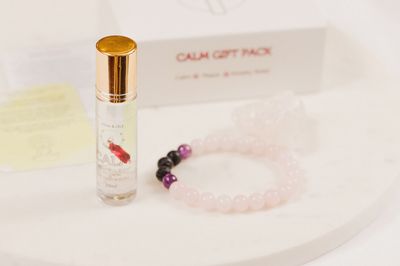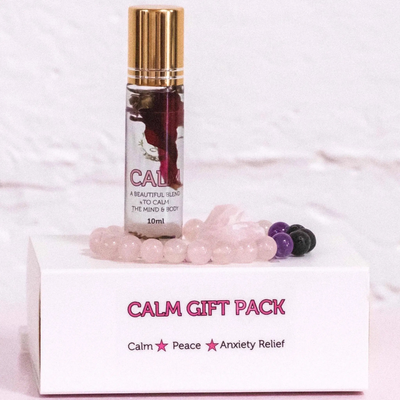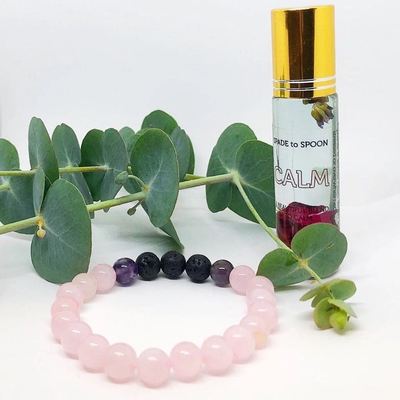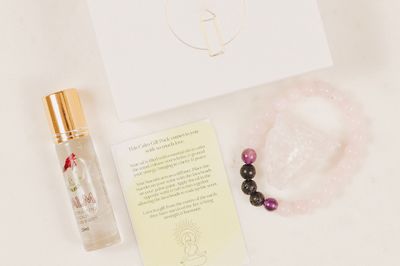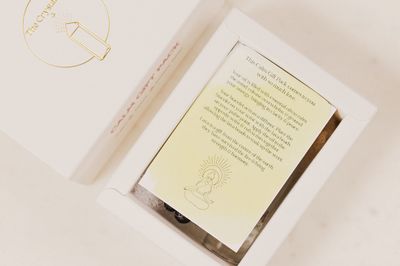 Calm Gift Pack
YOGA & OILS
$48.00
or 4 interest free payments of $12.00 with
learn more
Hands down, my favourite combo for stress & anxiety. The CALM blend is formulated to ground you, calm you and bring tranquility to the mind and body and when used with our Rose Quartz and Amethyst diffuser bracelet, the calm feeling is amplified.
Rose Quartz helps to stabilise emotions, this crystal teaches you to love and accept yourself, forgive the past and live from your heart. It heals emotions & transforms relationships with yourself and others, drawing in love and harmony.
Amethyst means serenity and freedom from harm. Perfect for calming anxiety and reducing physical or psychological pain. It balances the subtle endochrine system, regulating hormone production. Amethyst opens your third eye and clairifies spiritual vision.
We have also added lava beads to the bracelet so you can get the aromatic and physical benefits of essential oils all day. Just add a drop of the essential oil to the lava beads to enjoy the benefits of your chosen oil.
USES:
Calming - Grounding - Relief from Stress - Relief from Anxiety - Relief from Anger - Acts as a reminder to Breathe - Releases the overactive mind - Tantrums - Depression - Emotional Balance - Healing
FEATURES:
- HANDMADE IN NZ: Created with love & intention in Te Awamutu, New Zealand by a Mother who also feels overwhelm & anxiety. This combo was & still is my number one for releasing tension within the body.
- INGREDIENTS: We source the best certified pure therapeutic grade essential oils from around the world & blend them to age range. Spruce, Vetiver, Chamomile, Cedarwood, Lavender, Sandalwood, Marjoram, Ylang Ylang, Camphor essential oils in a base of palm free fractionated coconut oil, infused with rose petals & lavender flowers.
- READY TO USE: Your CALM blend comes in a roller bottle ready for you to roll over the heart, on the pulse points & if you would like on the bottoms of your feet. Safe for children.
- AGE RANGE: Child 1-8 years, Adult 8 years +. Adult is a gold roller, children black roller.
- ONE OF A KIND: Because we source natural gemstones each bracelet varies slightly. You bracelet is truly unique to you. If you would like it custome made to your wrist size, please mention the measurement in centimeters in additional comments at checkout
- GIFT READY: Your gift pack comes boxed with love for you, with an affirmation card.


SKU: 10149