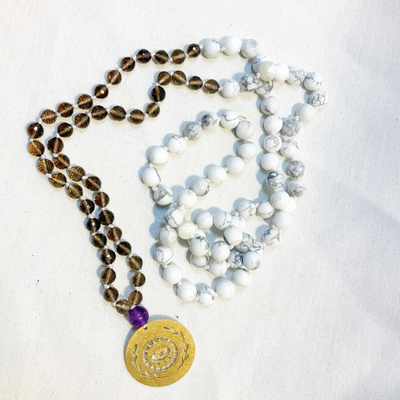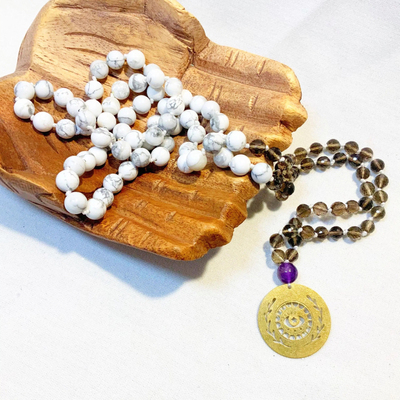 Brass Series - Connection Mala
YOGA & OILS
$118.00
or 4 interest free payments of $29.50 with
learn more
This 108 Mala was made in ceremony and brings together Faceted Smoky Quartz, Howlite and Amethyst gemstones to connect you to your guardian angels while feeling protected, grounded and peaceful.
A powerful daily reminder of your strength and connection to the devine. This mala is a reminder that your guardian angels are with you every moment of the day washing away negativity and allowing the light to shine in.
108 beads of healing, 108 knots of intention created after each bead making this amazing to use during your meditation practice or as a tactile reminder to breathe. 

MANTRA + AFFIRMATION
I am strong, grounded and peaceful
I am deeply connected to universal life force energy,
I feel the support, protection and love that surrounds me,
I am blessed.
ENERGY:
Strength - Grounding - Balance - Courage - Calming - Protection - Negativity Shield - Relief from stress & anxiety

FEATURES:
- HANDMADE IN NZ: Designed & meticulously handcrafted with love & intention in Te Awamutu, New Zealand
- QUALITY GEMSTONES: We source high grade A genuine semiprecious stones from Australia & New Zealand suppliers. This Mala includes a 12mm Onyx Guru Bead.
- READY TO USE: Your mala has been cleansed & charged prior to wrapping with love for you.
- GIFT READY: Your Mala comes gift wrapped in a Mala pouch, along with a description of the healing properties for your gemstones, with an affirmation card & information on Mala's.
- ONE OF A KIND: Because we source natural gemstones & pendant each varies slightly. Each mala is truly unique to you.


SKU: 10239