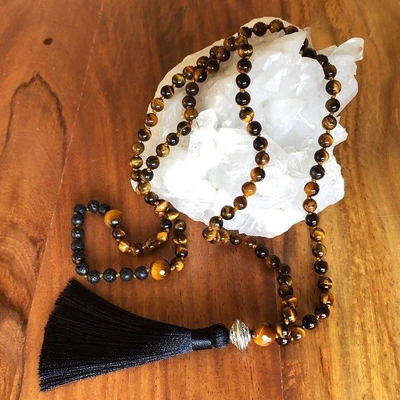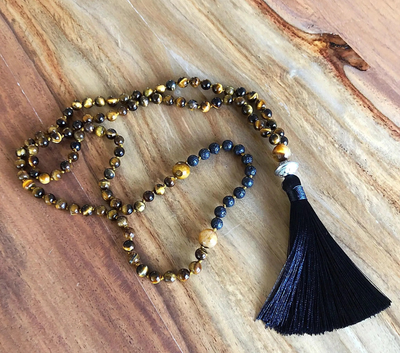 Tigers Eye Hand-tied Mala
YOGA & OILS
$108.00
or 4 interest free payments of $27.00 with
learn more
Mala beads or "malas", are tactile reminders to breathe, to bring ourselves back from the 'busy' lives we lead and bring us into the present moment. They are both beautiful and a great tool to help with meditation & healing.

Tigers Eye Stone is a crystal with lovely bands of yellow-golden color through it. This is a powerful stone that helps you to release fear and anxiety and aids harmony and balance.
It stimulates taking action, helps you to make decisions with discernment, understanding and unclouded by your emotions.


Handmade in New Zealand, 108 crystal beads of intention, 108 knots of love with the addition of the 12mm Tigers Eye Guru (teacher) bead. We have also added lava beads to the mala around the back of the neck so you can get the aromatic and physical benefits of essential oils all day. Just add a drop of your chosen essential oil to the lava beads to enjoy the benefits.
FEATURES:
- HANDMADE IN NZ: Designed & meticulously handcrafted with love & intention in Te Awamutu, New Zealand
- QUALITY GEMSTONES: We source high grade A genuine semiprecious stones from Australia & New Zealand suppliers. This mala includes a 12mm Tigers Eye guru bead.
- READY TO USE: Your mala has been cleansed & charged prior to wrapping with love for you.
- GIFT READY: Your Mala comes gift wrapped in a Mala pouch, along with a description of the healing properties for your gemstones, with an affirmation card & information on Mala's.
- ONE OF A KIND: Because we source natural gemstones & pendant each varies slightly. Each mala is truly unique to you.
SKU: 10467