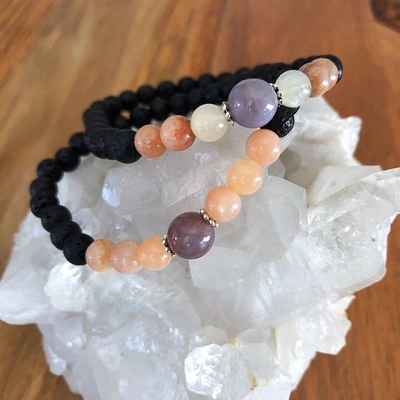 Sunstone & Indian Agate Diffuser Bracelet
YOGA & OILS
$18.00
or 4 interest free payments of $4.50 with
learn more
Nurturing - Joy - Vitality

Sunstone brings a profound connection to light and the regenerative power of the sun during meditation and in everyday life.With its powers of the sun and light, Sunstone clears and cleanses all the chakras, restoring joy and vitality, and nurturing the spirit. It is particularly energizing to the Base and Sacral Chakras, stimulating leadership and will, creativity and sexuality.Sunstone is an abundance and prosperity stone, and an excellent "good luck" crystal.
A soothing and calming stone Indian agate works slowly, but brings great inner strength. These stones can help overcome negativity and bitterness in the heart, fostering love and the courage to start again. They create a sense of safety & security by dissolving internal tension.

We have also added lava beads to the bracelet so you can get the aromatic and physical benefits of essential oils all day. Just add a drop of the essential oil to the lava beads to enjoy the benefits of your chosen oil.

This bracelet comes cleansed with Palo Santo & Selenite and is wrapped beautifully for you.


If you would like to order a bracelet for a child - or to specify your wrist size - please do so in the additional comments area of checkout. Please measure in cms.
SKU: 10813