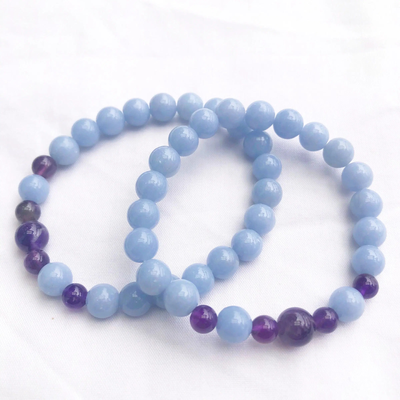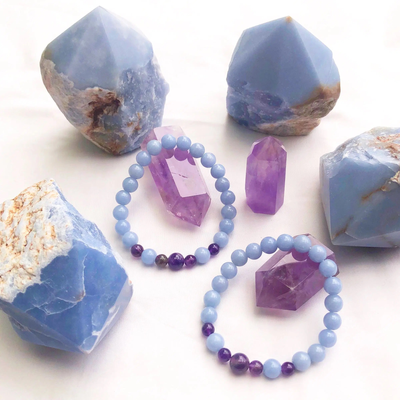 Amethyst and Angelite Guardian Bracelet
YOGA & OILS
$36.00
or 4 interest free payments of $9.00 with
learn more
Angelite - The Guardian Stone
As its name suggests, Angelite acts as a guardian angel of anyone that keeps it close. This crystal connects you to your angels and guides in times of when you're needing emotional support, reminding us that they always near. The serene blue symbolises its peaceful but divine energy, which this stone is believed to have the same frequency as the angels. 
Angelite works to really establish your connection to their spiritual side, enhancing their intuitive powers and helping them to clearly visualise their path, and how to get there. 
For anyone that has difficulty communicating, this crystal works to balance the throat chakra. It exudes calming energy, helping one to find the rights words to properly express themselves when needed. Angelite can also activate the third eye chakra, forming a physical line of communication to your angels. 
This beauty comes boxed with an amethyst tumble to enhance the calm and happiness.
FEATURES:
- HANDMADE IN NZ: Designed & meticulously handcrafted with love & intention in Te Awamutu, New Zealand
- QUALITY GEMSTONES: We source genuine semiprecious stones from Brazil
- READY TO USE: Your bracelet has been cleansed & charged prior to wrapping with love for you.
- GIFT READY: Your bracelet comes gift wrapped in a pouch, along with a description of the healing properties for your gemstones and with an affirmation card.
- ONE OF A KIND: Because we source natural gemstones each bracelet varies slightly. Your bracelet is truly unique to you.


SKU: 10094