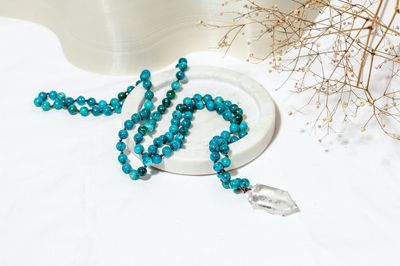 Blue Apatite & Quartz Mala Beads
YOGA & OILS
$128.00
or 4 interest free payments of $32.00 with
learn more
This Blue Apatite 108 Mala is created with Blue Apatite gemstones & is finished with a 4cm x 1cm Double Terminated Quartz pendant.
It is made with emotional balance, healing & spiritual awareness in mind, with knots created after each bead infusing the intention into your mala, making this a fabulous tool for meditation.
As you wear this mala, let it be a reminder of your unique awesomeness, a reminder to breathe, to dance through the day feeling harmonious and balanced. 
We invite you to take an expansive breathe in....... and on the exhale, smile and repeat:
I AM EMPOWERED TO SPEAK MY TRUTH
Apatite is a dual-action stone, known for its positive use of personal power to achieve goals. It clears away confusion, apathy or negativity, then, stimulates the intellect to expand knowledge and truth, which may be used for personal growth or for the collective good.

It is a Stone of Manifestation, promoting a humanitarian outlook & service to others.
Apatite increases motivation and builds up energy reserves. It helps overcome self-consciousness and promotes openness and social ease. It is beneficial in easing sorrow and anger, and in reducing irritability & emotional exhaustion.
Blue Apatite has an uplifting energy that raises spirits, encouraging a positive outlook and a hopeful attitude. A stone of the Throat Chakra, Blue Apatite helps with public speaking and enhances group communication.
ENERGY:
Power of Serenity - Calming - Clarity - Inner Strength - Cleansing - Emotional Balance - Healing - Intuition - Spiritual Awareness - Motivation - Releasing Anxiety - Protection

FEATURES:
- HANDMADE IN NZ: Designed & meticulously handcrafted with love & intention in Te Awamutu, New Zealand
- QUALITY GEMSTONES: We source high grade A genuine semiprecious stones from Australia & New Zealand suppliers. This mala includes a 4cm x 1cm Quartz Pendant.
- READY TO USE: Your mala has been cleansed & charged prior to wrapping with love for you.
- GIFT READY: Your Mala comes gift wrapped in a Mala pouch, along with a description of the healing properties for your gemstones, with an affirmation card & information on Mala's.
- ONE OF A KIND: Because we source natural gemstones & pendant each varies slightly. Each mala is truly unique to you.


SKU: 10179