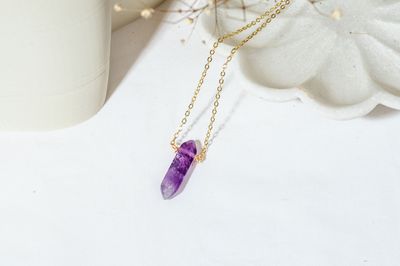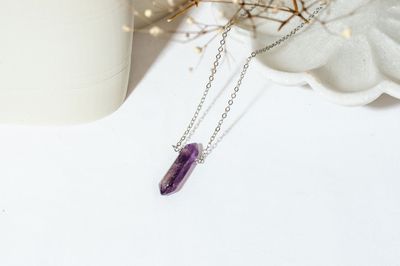 Amethyst Pendant
YOGA & OILS
$24.00
or 4 interest free payments of $6.00 with
learn more
Amethyst relieves stress, soothes irritability, balances mood swings, dispels anger, rage, fear and anxiety. A beautiful calmer of the mind, work with Amethyst to help let life's stresses wash away.
Amethyst is linked to your Third eye chakra, so will enhance intuition, improve focus and memory.
Amethyst is often used as an effective sleep tool, it also assists in remembering and understanding dreams. Perfect for adding beside your bed or in high stress areas and carrying with you during the day. 
ENERGY
Harmony - Trust - Intuition - Spirituality - Serenity - Sleep - Calming - Great to help with Anxiety.
FEATURES:
- Sourced from Brazil
- Cleansed ready for your energy 
- Each Pendant comes in a pouch & has a silver or gold chain.
- GIFT READY: Your crystal comes gift wrapped with love for you, with an affirmation card.

**Information provided not meant to diagnose. 
SKU: 10130