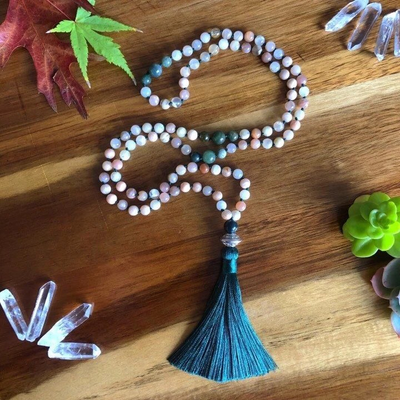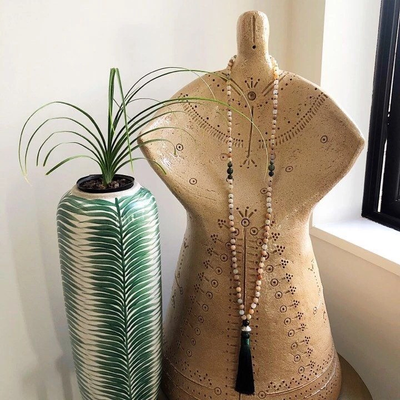 Sunstone & Indian Agate Mala
YOGA & OILS
$118.00
or 4 interest free payments of $29.50 with
learn more
This 108 Mala brings together the Sunstone & Indian Agate gemstones radiating joy & vitality.

Sunstone brings a profound connection to light and the regenerative power of the sun during meditation and in everyday life.With its powers of the sun and light, Sunstone clears and cleanses all the chakras, restoring joy and vitality, and nurturing the spirit. It is particularly energising to the Base and Sacral Chakras, stimulating leadership and will, creativity and sexuality. Sunstone is an abundance and prosperity stone, and an excellent "good luck" crystal.
A soothing and calming stone Indian agate works slowly, but brings great inner strength. These stones can help overcome negativity and bitterness in the heart, fostering love and the courage to start again. They create a sense of safety & security by dissolving internal tension.

ENERGY:
Joy - Vitality - Cleansing - Nurturing - Emotional Balance - Healing - Creativity - Abundance - Inner Strength - Positivity - Love - Happiness - Strength - Courage

FEATURES:
- HANDMADE IN NZ: Designed & meticulously handcrafted with love & intention in Te Awamutu, New Zealand
- QUALITY GEMSTONES: We source high grade A genuine semiprecious stones from Australia & New Zealand suppliers.
- READY TO USE: Your mala has been cleansed & charged prior to wrapping with love for you.
- GIFT READY: Your Mala comes gift wrapped in a Mala pouch, along with a description of the healing properties for your gemstones, with an affirmation card & information on Mala's.
- ONE OF A KIND: Because we source natural gemstones & pendant each varies slightly. Each mala is truly unique to you.


SKU: 10814