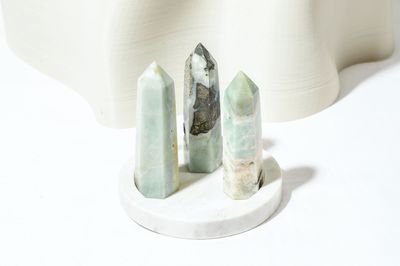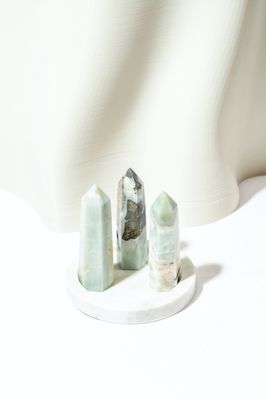 Carribean Calcite Tower
YOGA & OILS
$28.00
or 4 interest free payments of $7.00 with
learn more
The combination of Blue Calcite and both White Aragonite and Brown Aragonite offers many healing properties and benefits with Caribbean Calcite.
The calming energy of Caribbean Calcite helps to alleviate high levels of stress and anxiety. Use Caribbean Calcite to help you sleep at night and enhance lucid dreams.
Emotional understanding can be reached on a deeper level through Caribbean Calcite. This stone allows you to connect to your most true self. It can help you to release old emotions, thoughts, and patterns as it brings these issues to the surface with a gentle energy.
The energy of Caribbean Calcite can be activating when it comes to the crown chakra and the third eye chakra, connecting you to your inner knowing and inner truth.
Another benefit of Caribbean Calcite is that this healing crystal helps you to stay present and more in the "now" moment.
You can also use Caribbean Calcite with your throat chakra for physical healing and to support speaking your truth and self-expression.
FEATURES:
- Cleansed ready for your energy 
- Each Crystal varies in size, these beauties range from 6-9cms tall
- GIFT READY: Your crystal comes gift wrapped with love for you, with an affirmation card.


**Information provided not meant to diagnose.
SKU: 10015