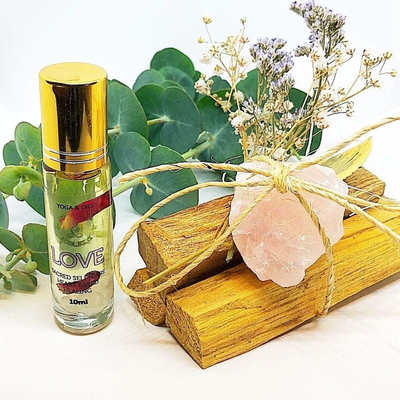 Cleansing Gift Pack
YOGA & OILS
$56.00
or 4 interest free payments of $14.00 with
learn more
This beautiful gift pack clears negative energy and sets positive intentions both within your home or workspace and also within your body.

Included:
- LOVE essential oil blend - formulated with the highest vibrational oils to bring love and trust into the body, mind and spirit. The blend allows compassion and love for yourself to radiate through your body. This blend reconnects you with the inner child and the pure, simple ways of the heart while instilling unconditional love and trust for the beauty that is you.
The LOVE blend is infused with rose quartz and rose petals to enhance the healing love.
- Palo Santo Cleansing Sticks - a sacred wood from the Palo Santo tree imported from Peru. It inspires creativity, clears negative energy and brings love and fortune onto your horizon. Amazing for clearing stagnant energies from your home, your crystals & your body.
- Rose Quartz Crystal - a stone of the heart, a Crystal of Unconditional Love. It carries a soft feminine energy of compassion and peace, tenderness and healing, nourishment and comfort. It speaks directly to the Heart Chakra, dissolving emotional wounds, fears and resentments, and circulates a Divine loving energy throughout the entire aura. Reawakening the heart to its own innate love, it provides a deep sense of personal fulfillment and contentment, allowing one the capacity to truly give and receive love from others.
FEATURES:
- HANDMADE IN NZ: Created with love & intention in Te Awamutu, New Zealand
- INGREDIENTS: We source the best certified pure therapeutic grade essential oils from around the world & blend them to age range.
- READY TO USE: Your blend come in a roller bottle ready for you to roll over the heart, on the pulse points & if you would like on the bottoms of your feet. Safe for children.
- GIFT READY: Your gift pack comes boxed with love for you, with an affirmation card.


SKU: 10297