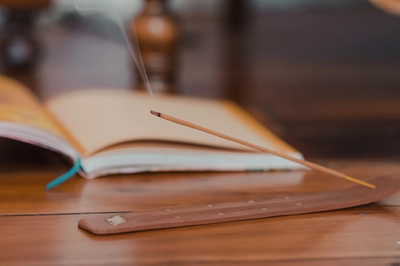 Nag Champa Incense
YOGA & OILS
$6.00
or 4 interest free payments of $1.50 with
learn more
NAG CHAMPA
This is the original authentic Nag Champa brand incense named in honor of the avatar-teacher Satya Sai Baba and the only product that he has ever lent his name to. This wonderful incense from India is hand rolled with a sandal wood base and a complex and balanced blend of all natural resins, gums, flowers and oils. Simply the most popular incense in the world!
Imagery evoked: Dew drops on a leaf on a misty morning
Description:   Positivity
Key Notes: Earthy, Harmonising
WHITE SAGE
Imagery evoked: A walk through the woods
Description/ Woody
Key Notes: Sacred, Grounding
SACRED RITUAL
Imagery evoked: Attaining a state of zen
Description/ Balancing
Key Notes: Immersive, Sacred
EASTERN TANTRA
Imagery evoked: Monks chanting in the middle of a forest
Description/ Elevating
Key Notes: Regenerative, Solitary
SEVEN CHAKRA
Description/ Activating
Key Notes: De-stressing, Productive
NIRVANA
A state of Happiness
WOODEN INCENSE HOLDER
Simple but so effective with brass elephant and star inserts, handcrafted in India.
FEATURES:
- SOURCED: Sourced with love from India
- GIFT READY: Your incense comes wrapped with love and an affirmation card.


SKU: 10591