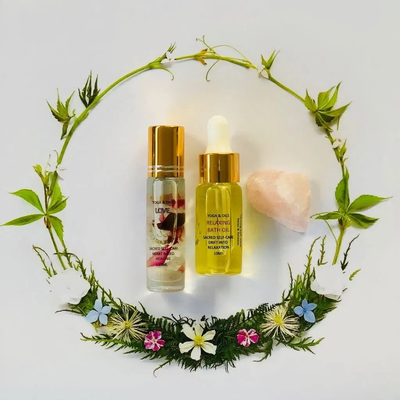 Ultimate Self-Care Essential Oil Gift Pack
YOGA & OILS
$60.00
or 4 interest free payments of $15.00 with
learn more
Self-love is such a beautiful and necessary ritual to bring into your everyday life. With practice, this love ripples into our work, relationships and our mental, physical and emotional health.

Adding essential oils to your bath is one of the most effective ways to enjoy the benefits of oils as they are inhaled with the steam travelling to the limbic system in our brain which is responsible for our emotional responses as well as absorbed through the skin by osmosis.
This gift pack contains:
LOVE Essential Oil Blend
Relaxing Bath Oil
Rose Quartz Crystal

Our LOVE blend is formulated with the highest vibrational essential oils to bring love and trust into the body, mind and spirit. Essential oils that sing to the heart chakra, allowing compassion and love for yourself to radiate through your body. This blend reconnects you with the inner child and the pure, simple ways of the heart while instilling unconditional love & trust for the beauty that is you.
The RELAXING BATH OIL will have you melting into a sense of tranquillity that allows space for personal reflection, peace and healing. A beautiful blend for those who struggle with an overactive mind and inability to unwind.
These oils come with affirmation and self-care ritual cards as well as Rose Quartz Crystal perfect for you to hold in you your palm.

All our blends are made in small batches with love and intention using Certified Pure Therapuetic Grade essential oils. They are then cleansed with a Selenite wand before making their journey to you.
SKU: 10874