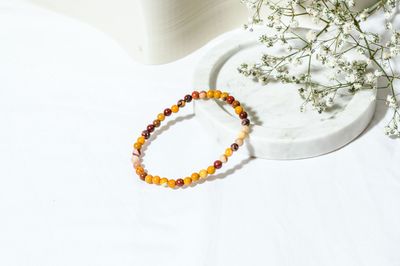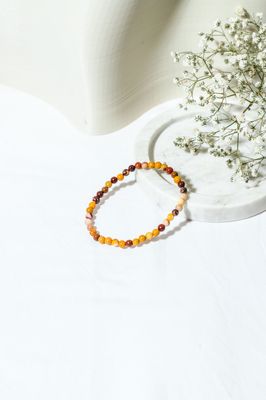 Mookaite Bracelet
YOGA & OILS
$18.00
or 4 interest free payments of $4.50 with
learn more
Like an espresso for the soul, the Mookaite crystal is an excellent all-over energiser that cleanses and activates the root chakra, sacral chakra, and solar plexus chakra.
Mookaite encourages you to take control of your destiny and shoot for the stars. Its medicine reminds us that we're the CEO of our own lives and it's time to start making executive decisions.
This particular bracelet is so joyful, made with 4mm beads, it is petite and beautiful.
ENERGY:
Energising - Grounding - Calming - Inner Strength - Positivity - Emotional Balance - Healing - Motivation 
FEATURES:
- HANDMADE IN NZ: Designed & meticulously handcrafted with love & intention in Te Awamutu, New Zealand
- QUALITY GEMSTONES: We source genuine semiprecious stones from Australia & New Zealand suppliers.
- READY TO USE: Your bracelet has been cleansed & charged prior to wrapping with love for you.
- GIFT READY: Your bracelet comes gift wrapped in a pouch, along with a description of the healing properties for your gemstones and with an affirmation card.
- ONE OF A KIND: Because we source natural gemstones each bracelet varies slightly. You bracelet is truly unique to you.
**Information provided not meant to diagnose. Guidance shared from Crystal365
SKU: 10553