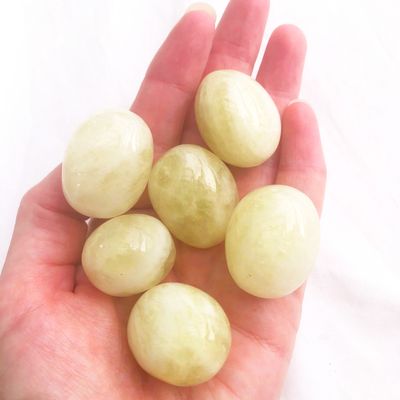 Citrine Tumble
YOGA & OILS
$8.00
or 4 interest free payments of $2.00 with
learn more
Its frequency awakens creativity & imagination & sustains the process of transforming dreams & wishes into tangible form. It is a stone of abundance & manifestation, attracting wealth & prosperity, success & all things good. It also encourages generosity & sharing good fortune.

Citrine encourages fullness of life, fresh beginnings & new pursuits. It does not hold or accumulate negative energy, but rather transmutes, dissipates, & grounds it, making it extremely protective for the environment. It works out problems on both the physical & subtle levels, transforming negative thoughts & feelings into positive ones. It is one of only two crystals on Earth that never needs to be cleared or cleansed.
Citrine opens the higher mind to accept joy in one's life, releasing anger & negative feelings, deep-seated fear & destructive tendencies. An excellent crystal for overcoming depression, it reduces the sensitivity to criticism & inspires creativity & self-expression. It raises self-esteem, & by letting go of the past, allows one to move forward optimistically.

Creativity - Joy - Manifestation- Self-Esteem - Happiness - Abundance - Release Fears - Self-Expression

FEATURES:
- Sourced from Brazil
- Cleansed ready for your energy
- Each Crystal varies in size and shape, approx 2-4cms
- GIFT READY: Your crystal comes gift wrapped with love for you, with an affirmation card.

** Information provided not meant to diagnose.
SKU: 10291