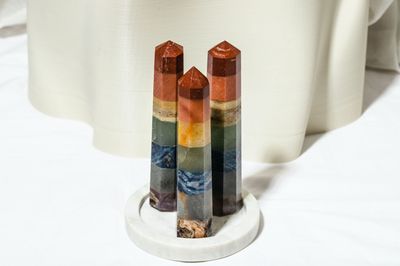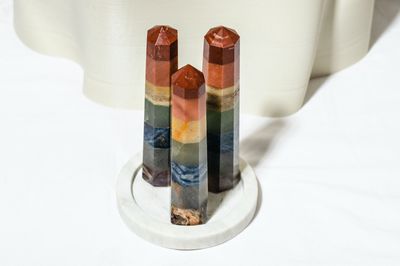 Chakra Point
YOGA & OILS
$42.00
or 4 interest free payments of $10.50 with
learn more
These beautiful towers stand proud, tall and they have a beautiful sense of strength with them.
Chakras are the energy centres in your body through which energy flows. These energy centres are directly linked to mental, physical and spiritual attributes. By understanding what each chakra represents and what you can do to keep this energy flowing freely, you can feel amazing, balanced, calm and free!
Our 7 Chakra Towers bring together seven beautiful stones to bring you full body harmony
Red Jasper - Root Chakra - Grounding, Protection
Orange Agate - Sacral Chakra - Emotional Balance, Creativity, Flow
Yellow Jade - Solar Plexus Chakra - Confidence, Energy
Green Agate - Heart Chakra - Joy, Love, Abundance
Sodalite - Throat Chakra - Truth, stepping into your power, communication, harmony
Iolite - Third Eye Chakra - Clarity, Intuition, Serenity
Amethyst - Crown Chakra - Connection, Harmony, Peace
Each tower comes in a beautifully wrapped along with cards on each of the chakra's
FEATURES:
- Sourced from India and handcarved with so much love and care
- SIZE: This beauy stands tall at approx 10cm x 2cms wide
- GIFT READY: Your tower comes gift wrapped, along with a description of the healing properties for your gemstones and an affirmation card.
- ONE OF A KIND: Because we source natural gemstones, each crystal is truly unique to you. 
SKU: 11065