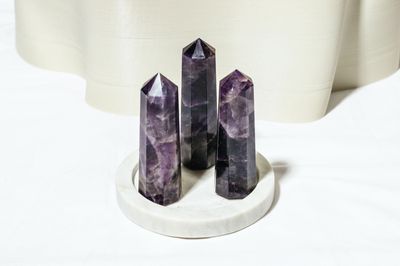 Chevron Amethyst Tower
YOGA & OILS
$32.00
or 4 interest free payments of $8.00 with
learn more
PROPERTIES:
Calming - Love - Clarity of the mind - Spiritual - Releases Anxiety - Emotional Balance - Healing - Repels negativity

Chevron Amethyst is one of the best third eye stimulators. It enhances inner, intuitive vision & outer, physical vision. It has powerfully focused energy that dissipates & repels negativity.
It has a strong healing field, bringing harmony to the organs of the body & stimulating the immune system. It helps you find & implement a positive answer to any problem.
FEATURES:
- Sourced from India
- Cleansed ready for your energy 
- Each Crystal varies in size, these beauties range from 9-10cms tall & 2.5cms wide
- GIFT READY: Your crystal comes gift wrapped with love for you, with an affirmation card.
- FREE POSTAGE: Because we value you, we offer free postage on all orders over $75
**Information provided not meant to diagnose. Excerpts from Crystal Bible.
SKU: 11113