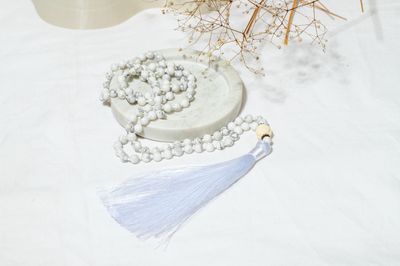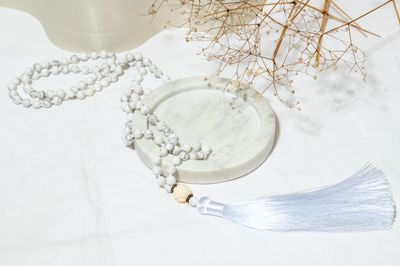 Howlite Lotus Mala Beads
YOGA & OILS
$118.00
or 4 interest free payments of $29.50 with
learn more
This stunning handtied mala brings together 108 Howlite Beads, a lotus guru bead and silky long ice white tassel. This has been created with pure harmony in mind.
Howlite is a lovely stone to use when needing to reduce anxiety, tensions and stress.  It can be used to facilitate awareness, encourage emotional expression and assist in the elimination of pain, stress and/or rage. It will calm and soothe the emotions, slow the overactive mind and help to achieve a deep and restful sleep. It can help to access/retrieve wisdom during the dream state and bring it back into consciousness upon waking.
FEATURES:
- HANDMADE IN NZ: Designed & meticulously handcrafted with love & intention in Te Awamutu, New Zealand
- QUALITY GEMSTONES: We source high grade A genuine semiprecious stones from Australia & New Zealand suppliers.
- READY TO USE: Your mala has been cleansed & charged prior to wrapping with love for you.
- GIFT READY: Your Mala comes gift wrapped in a Mala pouch, along with a description of the healing properties for your gemstones, with an affirmation card & information on Mala's.
- ONE OF A KIND: Because we source natural gemstones & pendant each varies slightly. Each mala is truly unique to you.
SKU: 11060