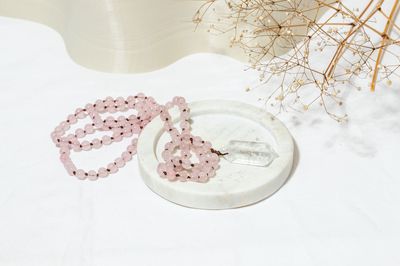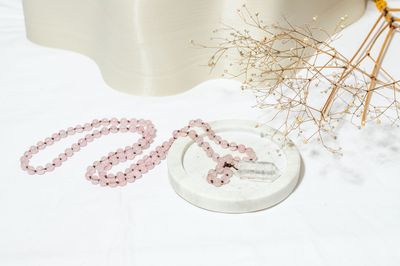 Rose Quartz & Quartz Mala Beads
YOGA & OILS
$138.00
or 4 interest free payments of $34.50 with
learn more
This Rose Quartz 108 Mala is created with Rose Quartz gemstones & the most stunning double terminated quartz point. 
She is made with emotional balance, love, peace & healing in mind, with knots created after each bead infusing the intention into your mala, to remind you that you are an amazing being that is filled with love, compassion & peace.
Rose Quartz helps to stabilise emotions, this crystal teaches you to love and accept yourself, forgive the past and live from your heart. It heals emotions & transforms relationships with yourself and others, drawing in love and harmony.
ENERGY:
I am Love - I am Loving - I am Calm - I am at Ease - I am Peace - I love Myself - I forgive Myself 
Love - Peace - Calm - Harmony - Emotional BalanceTrust
FEATURES:
- HANDMADE IN NZ: Designed & meticulously handcrafted with love & intention in Te Awamutu, New Zealand
- QUALITY GEMSTONES: We source high grade A genuine semiprecious stones from Australia & New Zealand suppliers. This mala includes a 3cm Double Terminated Quartz Pendant.
- READY TO USE: Your mala has been cleansed & charged prior to wrapping with love for you.
- GIFT READY: Your Mala comes gift wrapped in a Mala pouch, along with a description of the healing properties for your gemstones, with an affirmation card & information on Mala's.
- ONE OF A KIND: Because we source natural gemstones & pendant each varies slightly. Each mala is truly unique to you.
SKU: 11057