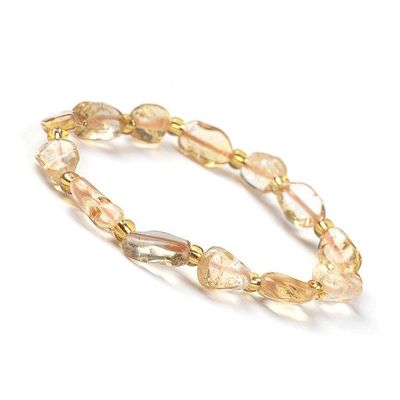 Citrine Nugget Bracelet
YOGA & OILS
$22.00
or 4 interest free payments of $5.50 with
learn more
The beauty just radiates high vibe happiness and the energy of the sun & invites so much joyful light into your world. 
Here's why we love Citrine:
This beautiful gemstone encourages fullness of life, fresh beginnings & new pursuits. It does not hold or accumulate negative energy, but rather transmutes, dissipates, & grounds it, making it extremely protective for the environment. It works out problems on both the physical & subtle levels, transforming negative thoughts & feelings into positive ones.
Its frequency awakens creativity & imagination & sustains the process of transforming dreams & wishes into tangible form.
It is a stone of abundance & manifestation, attracting wealth & prosperity, success & all things good. It also encourages generosity & sharing good fortune.
Citrine opens the higher mind to accept joy in one's life, releasing anger & negative feelings, deep-seated fear & destructive tendencies. It raises self-esteem, & by letting go of the past, allows one to move forward optimistically. Citrine is your ticket to unlocking creativity, abundance, and turning dreams into reality. 
FEATURES:
- HANDMADE IN NZ: Designed & meticulously handcrafted with love & intention in Te Awamutu, New Zealand
- QUALITY GEMSTONES: We source genuine semiprecious stones from Australia & New Zealand suppliers.
- READY TO USE: Your bracelet has been cleansed & charged prior to wrapping with love for you.
- GIFT READY: Your bracelet comes gift wrapped in a pouch, along with a description of the healing properties for your gemstones and with an affirmation card.
- ONE OF A KIND: Because we source natural gemstones each bracelet varies slightly. You bracelet is truly unique to you.
- SIZE: This beauty is for a smaller adult wrist size.
**Information provided not meant to diagnose.
SKU: 11148