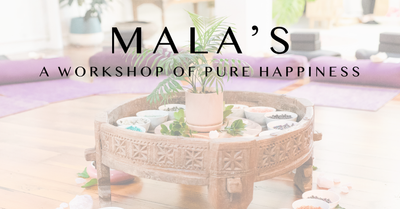 Mala's - 16th December, 2pm-6pm
YOGA & OILS
$77.00
or 4 interest free payments of $19.25 with
learn more
Out of stock
Are you ready for a surprise of happiness? This beautiful workshop comes with pure creativity and flow - and these creations feel like Summer Fun! This will be different to any other mala making workshop we have run while still embodying the essence of this beautiful sacred and intentional piece of jewellery.
Crystals : Cleansing : Meditation : Mantras : Nibbles : FUN!!!
Mala beads act as reminders and catalysts for living our intention. 108 Beads to awaken and align vital energy within. Mala beads or "malas", are tactile reminders that reminds us to breathe, bring ourselves back from the busy and sometimes hectic lives we lead and bring us into the moment. They are both beautiful and a great tool to help with meditation. The making of the Mala is a meditation in itself. 
Join us, and have the opportunity to make your own Mala, full of beautiful intention and your amazing energy. We will have crystals, tassels and all Mala-making supplies you will need. Along with your mala you will receive a pouch, information on the beads you choose, as well as information on both the meaning of a Mala, 108 beads & our japa nada meditation.
This workshop will be followed by cleansing our Mala's. You can also bring along any beads that have sentimental value or meaning to you to include in your Mala.
Nibbles and tea's provided.
When: 16th December, 2pm-6pm (ish)
Where: Yoga & Oils, 3 Walton Street, Te Awamutu
Bring: Please just bring yourself and wear comfy clothing as we are floor based. (Chairs available too if you'd love one)
SKU: 10539