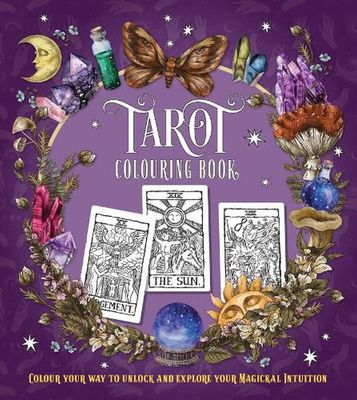 Tarot Colouring Book
YOGA & OILS
$28.00
or 4 interest free payments of $7.00 with
learn more
Connect with the insight and creative magic of Tarot with Tarot Coloring Book.
The cards of the tarot deck are each beautiful works of art filled with symbolism and meaning. The coloring pages of this book contain some of the most iconic and important cards in major and minor arcana, including The Lovers, The Tower, and The Hanging Man. On the back of each page are also intricate meditative patterns for you to color and enjoy.
Features:
Over 120 coloring pages
The most popular tarot card designs
Printed on quality paper to prevent bleed through
Chartwell Coloring Books is the ultimate coloring book series, encompassing designs of every kind. From intriguing abstract patterns to beautiful pictures from the natural, technological, and fantasy worlds, each of these coloring books will soothe the mind and inspire the inner creative in anyone. With so many variations of complex, beautiful designs in each book, you'll have plenty of pages to bring to life. Whether young or old, creative or not, this series has something for you.
FEATURES:-
- GIFT READY: Your book comes gift wrapped with love for you, with an affirmation card and extra happiness.
SKU: 10051