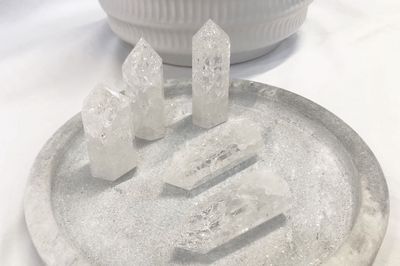 Exploded Quartz Towers
YOGA & OILS
$28.00
or 4 interest free payments of $7.00 with
learn more
These epic exploded quartz towers ping rainbows everywhere! They are so clear and joyful and are our current fav's in the studio.
PROPERTIES:
Calming - Clarity - Focus - Manifestation - Rainbow Happiness - Energy - Spiritual - Releases Anxiety - Emotional Balance - Healing - Meditation

Quartz is the most powerful healing and energy amplifier in the planet because of its helical spiral crystalline form. It absorbs, stores, releases, and regulates energy and is excellent for unblocking it.
Activating all energy centres in the body, this crystal clears a path for the life force to manifest through the various bodies, bringing in vibrant energy & zest for life.
FEATURES:
- Cleansed ready for your energy
- Each Crystal varies in size, these beauties range from 6-7.5cm tall and 2cm wide
- GIFT READY: Your crystal comes gift wrapped with love for you, with an affirmation card.
- FREE POSTAGE: Because we value you, we offer free postage on all orders over $75
** Information provided not meant to diagnose. Excerps from Crystal Bible.
SKU: 10363