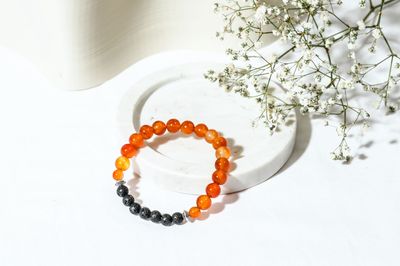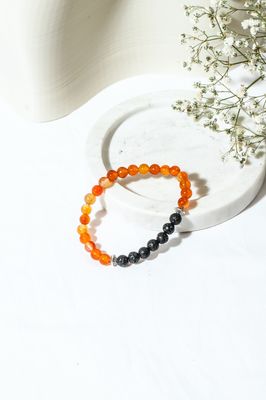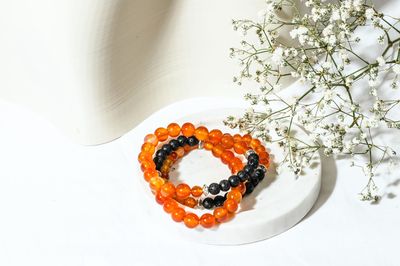 Carnelian Diffuser Bracelet
YOGA & OILS
$22.00
or 4 interest free payments of $5.50 with
learn more
This diffuser bracelet with Carnelian and Lava has great manifesting properties, helping to overcome procrastination and take action!
Carnelian helps you have the courage to unlock the creativity that resides in you. It increases your confidence and courage, decreases your over analytical or over thinking thoughts which helps you take risks or think outside of pre-existing limitations - outside of the box.
Carnelian increases your energy, vitality, sexuality and frees you of thoughts related to negative self-worth or fears of failure.
It is the perfect stone to get you out of your head & into your heart.
We have also added lava beads to the bracelet so you can get the aromatic and physical benefits of essential oils all day. Just add a drop of the essential oil to the lava beads to enjoy the benefits of your chosen oil.
ENERGY:
Courage - Creativity - Inner Strength - Positivity - Emotional Balance - Healing - Motivation - Grounding - Protection - Nurturing - Calming

FEATURES:
- HANDMADE IN NZ: Designed & meticulously handcrafted with love & intention in Te Awamutu, New Zealand
- QUALITY GEMSTONES: We source genuine semiprecious stones from Australia & New Zealand suppliers.
- READY TO USE: Your bracelet has been cleansed & charged prior to wrapping with love for you.
- GIFT READY: Your bracelet comes gift wrapped in a pouch, along with a description of the healing properties for your gemstones and with an affirmation card.
- ONE OF A KIND: Because we source natural gemstones each bracelet varies slightly. You bracelet is truly unique to you. If you would like this custom made to your wrist size, please let us know the size of your wrist in cm's in the additional comments at checkout.


SKU: 10257