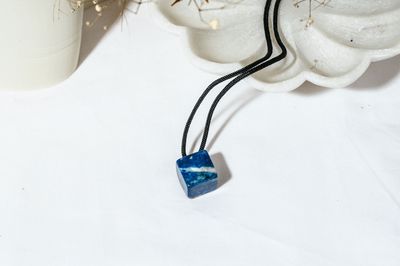 Lapis Lazuli Pendant
YOGA & OILS
$24.00
or 4 interest free payments of $6.00 with
learn more
Lapis Lazuli, a crystal of truth in all aspects. It reveals inner truth and promotes self-awareness and acceptance. It provides for the relief of things that may have been suppressed and allows for them to surface, helping to diminish dis-ease or repressed anger and allows for self-expression without holding back or compromising.
Lapis lazuli gives you the strength and clarity to step into your power, your truth and combined with lava is protective, grounding and provides strength to move forward confidently.
ENERGY:
Truth - Awareness - Intuition - Clarity - Emotional Balance - Calming - Harmony - Compassion - Strength - Positivity - Love - Protection - Negativity Shield 
FEATURES:
- Cleansed ready for your energy 
- Each Pendant comes in a pouch & an adjustable black cord.
- As this is a beautiful gift from the earth, each pendant will vary in amazonite colours
- GIFT READY: Your crystal comes gift wrapped with love for you, with an affirmation card.
**Information provided not meant to diagnose.
SKU: 10498