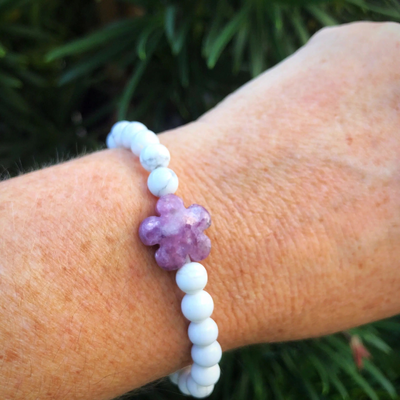 Howlite and Lepidolite Bracelet
YOGA & OILS
$26.00
or 4 interest free payments of $6.50 with
learn more
Ground your energy and release tension with this beautiful diffuser bracelet handmade in New Zealand using quality 6mm howlite and a lepidolite flower

Howlite is a lovely stone to use when needing to reduce anxiety, tensions and stress. Howlite can be used to facilitate awareness, encourage emotional expression and assist in the elimination of pain, stress and/or rage.
Lepidolite is wonderful for releasing overwhelm and bringing clarity for the mind. One of our favourite crystals for anxiety.

ENERGY:
Grounding - Calming - Inner Strength - Release Tension - Emotional Balance - Healing - Releasing Anxiety - Protection

FEATURES:
- HANDMADE IN NZ: Designed & meticulously handcrafted with love & intention in Te Awamutu, New Zealand
- QUALITY GEMSTONES: We source genuine semiprecious stones from Australia & New Zealand suppliers.
- READY TO USE: Your bracelet has been cleansed & charged prior to wrapping with love for you.
- GIFT READY: Your bracelet comes gift wrapped in a pouch, along with a description of the healing properties for your gemstones and with an affirmation card.
- ONE OF A KIND: Because we source natural gemstones each bracelet varies slightly. You bracelet is truly unique to you. If you would like this custom made to your wrist size, please let us know the size of your wrist in cm's in the additional comments at checkout.


SKU: 10440