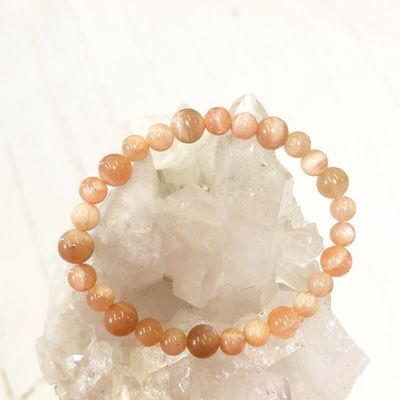 Sunstone Bracelet
YOGA & OILS
$22.00
or 4 interest free payments of $5.50 with
learn more
Just as the sun brings light, vitality, strength to all the living things on earth, Sunstone will breathe life into your creative spirit. Sunstone promotes energy, vitality & creativity.
Sunstone brings a profound connection to light and the regenerative power of the sun during meditation and in everyday life. With its powers of the sun and light, Sunstone clears and cleanses all the chakras, restoring joy and vitality, and nurturing the spirit. It is particularly energising to the Base and Sacral Chakras, stimulating leadership and will, creativity and sexuality. Sunstone is an abundance and prosperity stone, and an excellent "good luck" crystal.
FEATURES:
- HANDMADE IN NZ: Designed & meticulously handcrafted with love & intention in Te Awamutu, New Zealand
- QUALITY GEMSTONES: We source genuine semiprecious stones from Australia & New Zealand suppliers.
- READY TO USE: Your bracelet has been cleansed & charged prior to wrapping with love for you.
- GIFT READY: Your bracelet comes gift wrapped in a pouch, along with a description of the healing properties for your gemstones and with an affirmation card.
- ONE OF A KIND: Because we source natural gemstones each bracelet varies slightly. You bracelet is truly unique to you. If you would like this custom made to your wrist size, please let us know the size of your wrist in cm's in the additional comments at checkout.
SKU: 10815