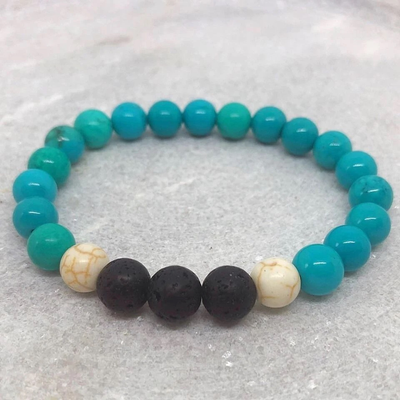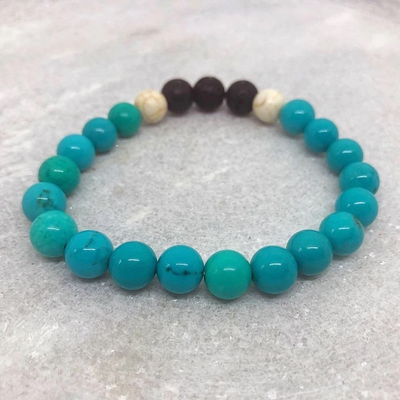 Turquoise, Howlite & Lava Diffuser Bracelet
YOGA & OILS
$22.00
or 4 interest free payments of $5.50 with
learn more
This beauty will bring balance to the mood and emotions.
Turquoise is a most efficient healer, providing solace for the spirit and well-being for the body. It benefits the overall mood and emotion by balancing and inducing a sense of serenity and peace. Holding or wearing Turquoise helps restore depleted vitality and lifts sagging spirits. It relieves stress and brings focus back to the heart. It is empathetic and balancing.

Turquoise is a stone for finding wholeness and truth, and communicating and manifesting those qualities. It stimulates and harmonises the Throat Chakra, making it easier to articulate and bring forth one's deepest wisdom. Turquoise empowers those who are shy about sharing their understanding and aids in the knowledge that in speaking from the wholeness of our being.
We have also added lava beads to the bracelet so you can get the aromatic and physical benefits of essential oils all day. Just add a drop of the essential oil to the lava beads to enjoy the benefits of your chosen oil.

ENERGY:
Grounding - Calming - Inner Strength - Release Tension - Emotional Balance - Healing - Releasing Anxiety - Truth - Communication - Serenity - Peace
FEATURES:
- HANDMADE IN NZ: Designed & meticulously handcrafted with love & intention in Te Awamutu, New Zealand
- QUALITY GEMSTONES: We source genuine semiprecious stones from Australia & New Zealand suppliers.
- READY TO USE: Your bracelet has been cleansed & charged prior to wrapping with love for you.
- GIFT READY: Your bracelet comes gift wrapped in a pouch, along with a description of the healing properties for your gemstones and with an affirmation card.
- ONE OF A KIND: Because we source natural gemstones each bracelet varies slightly. You bracelet is truly unique to you. If you would like this custom made to your wrist size, please let us know the size of your wrist in cm's in the additional comments at checkout.


SKU: 10873