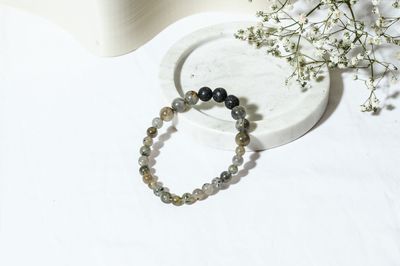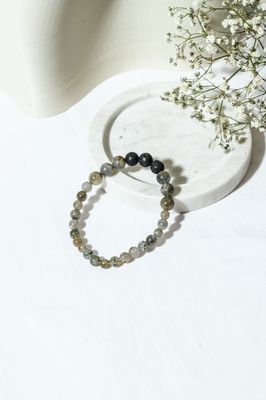 Labradorite & Lava Diffuser Bracelet
YOGA & OILS
$22.00
or 4 interest free payments of $5.50 with
learn more
These beautiful Labradorite gemstones shimmer silvers and blue in the sunlight. Handmade with love and intention in New Zealand to bring you the following healing magic.
A stone of transformation, Labradorite is a useful companion through change, imparting strength, will power and perseverance. It is also known as a magical stone with the power of spiritual vision, it balances and protects the aura, raises consciousness and grounds spiritual energies.
Emotionally, Labradorite can calm an overactive mind and energise the imagination, bringing in new ideas. It is fabulous for returning joy and spontaneity into life and awakens a sense of adventure and change.
Physically labradorite has been known to regulate metabolism, hormonal balance and relieve PMS. It may protect against coughs, colds and anything respiratory related.
We have also added lava beads to the bracelet so you can get the aromatic and physical benefits of essential oils all day. Just add a drop of the essential oil to the lava beads to enjoy the benefits of your chosen oil.
ENERGY:
Calming - Balance - Strength - Intuition - Emotional Balance - Overcoming Fears - Stress Release - Protection - Love - Compassion - Trust - Truth - Healing
FEATURES:
- HANDMADE IN NZ: Designed & meticulously handcrafted with love & intention in Te Awamutu, New Zealand
- QUALITY GEMSTONES: We source genuine semiprecious stones from Australia & New Zealand suppliers.
- READY TO USE: Your bracelet has been cleansed & charged prior to wrapping with love for you.
- GIFT READY: Your bracelet comes gift wrapped in a pouch, along with a description of the healing properties for your gemstones and with an affirmation card.
- ONE OF A KIND: Because we source natural gemstones each bracelet varies slightly. You bracelet is truly unique to you. If you would like this custom made to your wrist size, please let us know the size of your wrist in cm's in the additional comments at checkout.


SKU: 10480