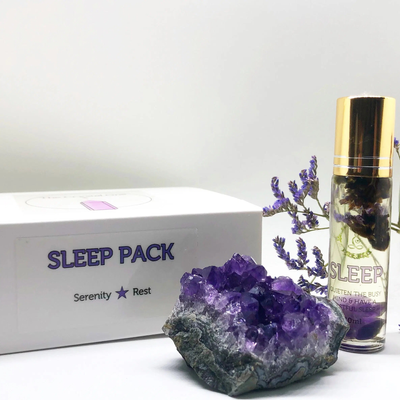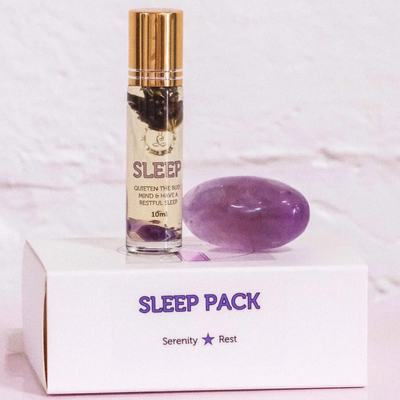 Sleep Gift Pack
YOGA & OILS
$42.00
or 4 interest free payments of $10.50 with
learn more
Our favourite duo for a restful night sleep. An amethyst palm stone, the serenity crystal, along with our popular Sleep blend.
Our SLEEP blend is formulated to help quieten the mind and support sleep being the perfect natural alternative to help you and your children have a restful night's sleep.
The most prominant essential oil in this blend is vetiver. Vetiver comes from the root of grass, so literally from beneath the earth and is so incredibly grounding and is a natural sedative. The nature of this essential oil allows you to become more rooted, more grounded in life and less connected to the overactive mind.
USES:
Releases the overactive mind - Relaxes the body - Supports a deeper sleep - Emotional Balance - Calming - Grounding - Relief from Stress - Relief from Anxiety - Healing
FEATURES:
- HANDMADE IN NZ: Created with love & intention in Te Awamutu, New Zealand. Originally this blend was formulated for my son who just would not sleep, one drop of the vetiver in his bath at night time and this blend rolled on the bottoms of his feet before bed has been his tonic to a restful, unbroken sleep. Overtime it has become one of our most popular blends for not only children, but actually more popular with adults.
- INGREDIENTS: We source the best certified pure therapeutic grade essential oils from around the world & blend them to age range. Vetiver, Chamomile, Cedarwood, Lavender, Sandalwood, Marjoram, Ylang Ylang, essential oils in a base of palm free fractionated coconut oil, infused with amethyst crystals, rose petals and lavender flowers.
- READY TO USE: Your SLEEP blend comes in a roller bottle ready for you to roll over the heart, on the pulse points & if you would like on the bottoms of your feet. Safe for children.
- GIFT READY: Your Sleep Gift Box comes gift wrapped with an affirmation card, info on the crystal, plus a little extra magic.


SKU: 10765