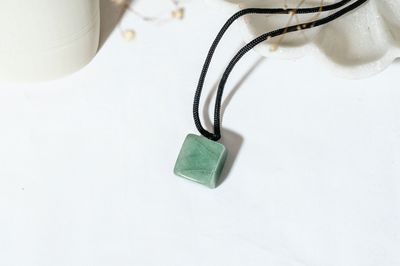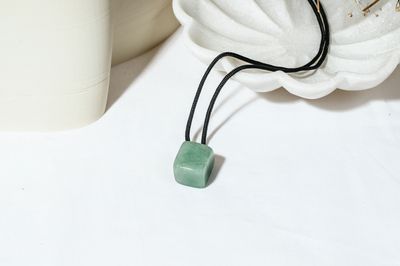 Aventurine Pendant
YOGA & OILS
$24.00
or 4 interest free payments of $6.00 with
learn more
Thought to be the luckiest of all crystals, especially in manifesting prosperity and wealth. This beautiful stone, however, is not just an attractor of luck, but one that aligns conditions so "opportunity" is inevitable. It releases old patterns and habits so new growth can take place. It brings optimism and a zest for life, allowing you to move forward with confidence and to embrace change.
Green Aventurine's soothing energy balances the emotional body, guiding you toward inner harmony. It calms nervousness, anger and irritation, and helps dissolve the everyday stress of a hectic lifestyle.

Green Aventurine is a comforter and heart healer, used to clear and activate the Heart Chakra for general well-being and emotional calm. It is also a powerful protector of the Heart Chakra, providing a shield to block entry from those who would "tap-in" and use the energy of another. 
FEATURES:
- Cleansed ready for your energy 
- Each Pendant comes in a pouch & an adjustable black cord.
- As this is a beautiful gift from the earth, each pendant will vary in amazonite colours
- GIFT READY: Your crystal comes gift wrapped with love for you, with an affirmation card.
**Information provided not meant to diagnose.
SKU: 10162