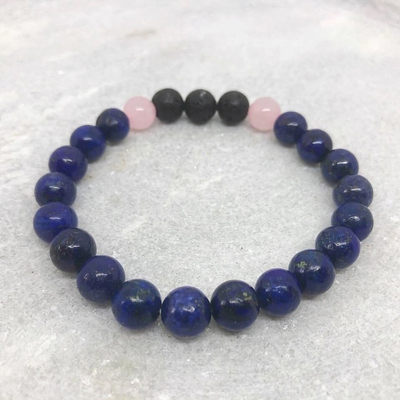 Lapis Lazuli Diffuser Bracelet
YOGA & OILS
$22.00
or 4 interest free payments of $5.50 with
learn more
This diffuser bracelet brings together Lapis Lazuli, Rose Quartz and Lava gemstones to keep your mind and heart present and open.

Lapis Lazuli, a crystal of truth in all aspects. It reveals inner truth and promotes self-awareness and acceptance. It provides for the relief of things that may have been suppressed and allows for them to surface, helping to diminish dis-ease or repressed anger and allows for self-expression without holding back or compromising.
Rose Quartz helps stabilise emotions, and this crystal teaches you to love and accept yourself, forgive the past and live from your heart. Rose Quartz heals emotions and transforms relationships with yourself and others - drawing in love and harmony.

MANTRA + AFFIRMATION
I am present & open.
I am present in this moment.
I breathe with awareness.
I inhale love, compassion & patience.
As I exhale I let go of my thoughts.
My mind & heart are open to miracles.
ENERGY:
Truth - Awareness - Intuition - Clarity - Emotional Balance - Calming - Harmony - Compassion - Strength - Positivity - Love - Protection - Negativity Shield - Relief from stress & anxiety

FEATURES:
- HANDMADE IN NZ: Designed & meticulously handcrafted with love & intention in Te Awamutu, New Zealand
- QUALITY GEMSTONES: We source genuine semiprecious stones from Australia & New Zealand suppliers.
- READY TO USE: Your bracelet has been cleansed & charged prior to wrapping with love for you.
- GIFT READY: Your bracelet comes gift wrapped in a pouch, along with a description of the healing properties for your gemstones and with an affirmation card.
- ONE OF A KIND: Because we source natural gemstones each bracelet varies slightly. You bracelet is truly unique to you. If you would like this custom made to your wrist size, please let us know the size of your wrist in cm's in the additional comments at checkout.


SKU: 10494