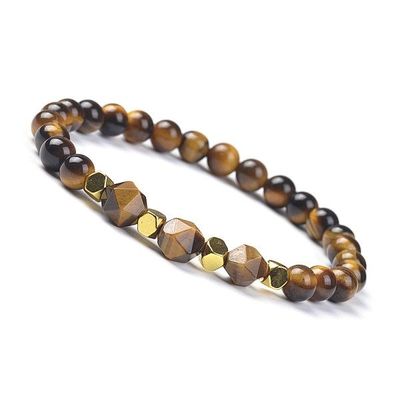 Tigers Eye and Hematite Bracelet
YOGA & OILS
$22.00
or 4 interest free payments of $5.50 with
learn more
Tigers eye is a stone of empowerment, enhancing the strength, the courage, the self-belief within you. When you tune in with tigers eye, it helps you shift your perspective away from any fear, limiting beliefs or perceived limitations and step into the powerful, confident, truely epic soul you are.

These beautiful bracelets radiate strength, protection, self-confidence, courage & empowerment while connecting you with your authentic self by challenging perceived limitations. With the addition of golden Hematite they really anchor and ground you in the energy of the Tiger.

Wearing this stone during challenging times enhances your strength within. It corresponds with both the sacral & solar plexus chakras, washing away any fears, self-doubt and limiting beliefs & igniting the spark & confidence within you.
FEATURES:
- HANDMADE IN NZ: Designed & meticulously handcrafted with love & intention in Te Awamutu, New Zealand
- QUALITY GEMSTONES: We source genuine semiprecious stones from Australia & New Zealand suppliers.
- READY TO USE: Your bracelet has been cleansed & charged prior to wrapping with love for you.
- GIFT READY: Your bracelet comes gift wrapped in a pouch, along with a description of the healing properties for your gemstones and with an affirmation card.
- ONE OF A KIND: Because we source natural gemstones each bracelet varies slightly. You bracelet is truly unique to you.
**Information provided not meant to diagnose.
SKU: 11149